Milan Fair – the place for the debut
The Milan Fair of Fur and Leather, the popular "MiFur", is one of the central promotional events of the company Nelemi Co.
The company promo team at this event appears at its own stand, as an independent exhibitor, for years.
The Milan fashion scene every year is an opportunity to present new breakthroughs in the field of processing chinchilla skins, for which this company is exclusively specialized.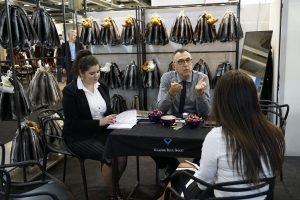 The original approach to processing, with careful observation of the needs of increasingly demanding clients, at the Milan festival reaches its peak through the promotion of the latest and always fresh solutions of the technological and marketing team of Nelemi Co.
Diamond Blue, a developmental brand of the company, has its premiere performances at the Milan Fair.
After the series of Diamond Blue, Prime, Superior, Infinity and SMART Fur Fusion collections, Diamond Blue Art Tech is currently in the stage of preliminary promotion of the latest stage of the brand.